1 kg Essential OIls
Essential Depot backs up its quality claims. We believe we are the only company selling Essential Oils that does Gas Chromatograph (GC) and Mass Spectrometry (MS) testing on every batch received and publishes a
full GC report with extensive research



20% additional discount for Greener Life Club Members.
CLICK HERE TO SEE Video Footage of Dr. Kevin Dunn, Professor of Chemistry at Hampden-Sydney College, discussing the GC testing of Essential Oils for authenticity

.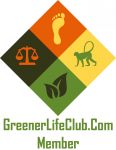 Greener Life Club Members can use the above Logo on their product labels, web site or marketing materials; see => https://www.essentialdepot.com/product/GLC-MEMBERSHIP-LOGO.html
Essential Depot promotes their products for them at => https://greenerlifeclub.com/product-directory/