Rosemary Essential Oil - 1 kg. - Approx 2.2 lbs.
---
Product Details
SKU:

EOIL-ROSEMARY-1KG
UPC:

812841025148
Uses:

Therapeutic Grade for use in aromatherapy, soap and cosmetic making. Not for internal use.
Shipping Restrictions: AIR SHIPMENT PROHIBITED
AIR SHIPMENT PROHIBITED -> Can only be shipped to USA 48 Contiguous States
ORM-D -> Can only be shipped to USA 48 Contiguous States
ORM-D FREE SHIP -> Can only be shipped to USA States and USA Territories
Botanical Name: Rosmarinus Officinalis Country of Origin: Spain Volume: 1 kg Extraction Method: Steam Distillation Plant Part: Herb Color: Colorless to pale yellow liquid Flash Point (°C): 43 Harmonized Code: 3301295137 Length (inches): 4 Width (inches): 4 Height (inches): 9 Gross Weight (lb.): Approximately 2.5 Net Weight (lb.): Approximately 2.2 SDS/MSDS Link: http://essentialdepot.com/msds/Essential-Oils/SDS_Rosemary.pdf C.O.A. / G.C. Link: https://essentialdepot.com/gc/EdRosemary.jpg Ayurvedic Blog: http://ayurvedicoils.com/ayurvedic-essential-oils_rosemary-essential-oil_817.html Essential Oil Blog: http://rosemaryessentialoil.com Greener Life Products: http://fyi101.com Kosher: Yes Wholesale Link: essential-oils-bulk/rosemary-oil-essential-oil-bulk.html
An evergreen shrub with numerous branches, Rosemary's bark is ash-colored and scaly with leathery, thick leaves that are lustrous and dark green with white underneath. Its tiny pale blue blossoms abound from December through Spring. Can grow to heights of close to 2 meters. The name means 'dew of the sea' because Rosemary naturally grows near the Mediterranean Sea.
VOLUME: 1 kg
ODOR/AROMA: A top note. Strong herbal aroma characteristic of rosemary with a fresh and slightly woody undertone.
CONSISTENCY: Thin
KOSHER: Yes
COMMON USES: Used medicinally for several thousand years. The leaves were traditionally burned to purify the air. The use of rosemary in Roman burial rites continued well into the Middle Ages in which it was customary to lay branches of rosemary on the coffin at funerals.
CAUTIONS: For external use only. May cause skin irritation in some individuals. A skin test is recommended prior to use, dilute prior to use. Contact with eyes should be avoided.
STORAGE: It is recommended that oils be packaged in colored glass or metal containers to protect the oil from air/light/moisture, keep it fresh, maintain the maximum shelf life, and for safe shipping.
RED (Revolutionary Essential Depot) Soap Making Products on Special - Click Here
Join the "Greener Life Club"
. Secure an additional 20% discount on all Essential Depot products and promote "Greener Life Products"
Essential Depot backs up its quality claims. We believe we are the only company selling Essential Oils that does Gas Chromatograph (GC) and Mass Spectrometry (MS) testing on every batch received and publishes the

full GC report

with

extensive research

on each Essential Oil for Greener Life Club Members.
CLICK HERE TO SEE Video Footage of Dr. Kevin Dunn, Professor of Chemistry at Hampden-Sydney College, discussing the GC testing of Essential Oils for authenticity

.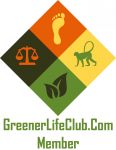 Greener Life Club Members can use the above Logo on their product labels, web site or marketing materials; see => https://www.essentialdepot.com/product/GLC-MEMBERSHIP-LOGO.html
Essential Depot promotes their products for them at => https://greenerlifeclub.com/product-directory/