S.T.E.M. Soap Kit
---
Product Details
SKU:

SK-SM-105
UPC:

810068070125
Uses:

Science education project that includes a broad range of activities from the classroom to the summer camp activity to simple family fun and gifts.
Shipping Restrictions: AIR SHIPMENT PROHIBITED
AIR SHIPMENT PROHIBITED -> Can only be shipped to USA 48 Contiguous States
ORM-D -> Can only be shipped to USA 48 Contiguous States
ORM-D FREE SHIP -> Can only be shipped to USA States and USA Territories
Country of Origin: USA Length (inches): 12 Width (inches): 4 Height (inches): 4
R.E.D. S.T.E.M. Soap Kit
(

R

evolutionary

E

ssential

D

epot)
Includes everything you need to make a loaf of soap.
Introduced to the R.E.D. (Revolutionary Essential Depot) line of products on April 25, 2020.
Essential Depot's S.T.E.M. Soap Kit is specifically designed for educators in pre-K, elementary, and secondary classrooms. Use this kit as a science education kit and product alongside S.T.E.M. (Science, Technology, Engineering, and Math) curriculum to demonstrate S.T.E.M. concepts and real-world applications through a hands-on activities to your students. Science education projects include a broad range of activities, such as practical experiments in engineering, aeronautics, robotics, energy, chemistry, physics, biology, and geology while incorporating applied math and science principles. Recently, however, not only teachers/educators use this method, but it is also used in home school based projects, summer camp activities, and just pure family fun as well as fabulous gifts.
This project includes the:
Science of saponification and soapmaking

Technology of electronically creating/marketing a product and label

Engineering product design, development/production timelines, chemistry

Math of calculations
Included in the kit:
Printed Instructions (see image above)
Gloves (size small)
Mask
Protective Eyewear
Apron
Silicone Spatula
5 oz Sodium Hydroxide, solid (NaOH)
Mixing bowl for your lye water
16 oz Olive Oil
15 oz Coconut Oil
2 oz Castor Oil
1 oz Essential Oil or Fragrance Oil (scent is random)
1 additive (appropriate for the scent)
Mold (food grade silicone and reuseable)
Labels for the finished soap
PURCHASED SEPARATELY: Refill kits (does not inlcude: mold, goggles, mask, gloves, apron, spatula, lye mixing bowl, instructions)
Additional safety items not included in the kit that you will need are:
You will also need the following soapmaking equipment:
mixing bowl large enough for ALL ingredients (Stainless Steel, HDPE, or even Glass) NO ALUMINUM OR ZINC!!!
stainless steel spoon (for mixing the lye but can use the silicone spatula)
Cutting blade (knife, metal dough/bench scrape, even a fine strong wire, etc.)
optional: stickblender (immersion blender), if you want to speed up the mixing time/effort
optional: scale, if you want to weigh items for extra calculations but you can guess at the water weight/quantity
Soapmaking DO's and DON'Ts:
ALWAYS work in a well ventilated area
Wear your PPE (Personal Protective Equipment)
DO NOT get distracted
NEVER add water to lye, ALWAYS slowly add the lye to water
NEVER use aluminum or zinc coated items, ALWAYS use stainless steel or plastic or even glass
RED (Revolutionary Essential Depot) Soap Making Products on Special - Click Here
Join the "Greener Life Club"
. Secure an additional 20% discount on all Essential Depot products and promote "Greener Life Products"
Essential Depot backs up its quality claims. We believe we are the only company selling Essential Oils that does Gas Chromatograph (GC) and Mass Spectrometry (MS) testing on every batch received and publishes the

full GC report

with

extensive research

on each Essential Oil for Greener Life Club Members.
CLICK HERE TO SEE Video Footage of Dr. Kevin Dunn, Professor of Chemistry at Hampden-Sydney College, discussing the GC testing of Essential Oils for authenticity

.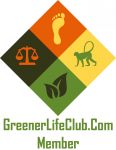 Greener Life Club Members can use the above Logo on their product labels, web site or marketing materials; see => https://www.essentialdepot.com/product/GLC-MEMBERSHIP-LOGO.html
Essential Depot promotes their products for them at => https://greenerlifeclub.com/product-directory/