We LOVE to talk with our CUSTOMERS
Call (863) 224 9555 (Mon-Fri 1pm to 5pm)

Palm Oil - RSPO Sustainable - 7 lbs - USP Food Grade- Not Hydrogenated - 0g Trans Fat Alternative
$49.97
30% OFF - Holiday Offer WHILE STOCKS LAST
$34.98
Join the
Greener Life Club
to access
PROMO CODE
to secure an additional 20% discount on this product.
---
Product Details
SKU:

PALM-7LB-GLCBOX
UPC:

810068070408
Botanical Name: elaeis guinnesis Country of Origin: Malaysia/Indonesia Extraction Method: Physically Milled, Fractionated, Solvent Extracted, Refined, Bleached, Deodorized, Votated Plant Part: fruit of the oil palm Color: White to pale yellow CAS #: 8002-75-3 SAP value (KOH): 0.203 SAP value (NaOH): 0.144 Flash Point (°C): >500F (260C) Length (inches): 10 Width (inches): 7 Height (inches): 6 SDS/MSDS Link: https://www.essentialdepot.com/msds/Palm SDS.pdf C.O.A. / G.C. Link: https://www.essentialdepot.com/coa/Palm_CoA.pdf Ayurvedic Blog: https://ayurvedicoils.com/ Essential Oil Blog: https://essentialoil.net/ Greener Life Products: https://greenerlifeclub.com/product-directory/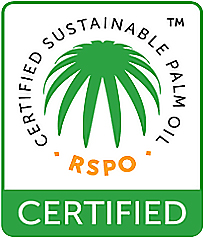 This premium Palm Oil is RSPO Certified Sustainable, demonstrating Essential Depot's commitment to preservation of the orangutan habitat impacted by conventional palm production. Purchase of RSPO Certified Sustainable palm oil contributes to the preservation of the orangutan habitat as well as fair trade and ethical sourcing.
Palm Oil - RSPO Certified - Sustainable - Food Safe - Not Hydrogenated - 7 lb - Greener Life Club Box
Shipped in a freezer-safe, microwave safe, safety-sealed, PP container (pail) with a resealable lid and removeable handle.
100% Pure Food Grade Palm Oil. Successfully designed as a zero trans fat alternative to traditional shortening, it actually does have 0g trans fat per serving.
PRODUCT SPECIFICATIONS:
VOLUME: 7 lbs

ODOR/AROMA: bland to odorless

TASTE: bland to tasteless

APPEARANCE: semi-solid - solid at 25C

CONSISTENCY: semi-solid (scoopable) at 25C

INITIAL BOILING POINT and RANGE: >572°F (300°C)

AUTO-INGNITION TEMPERATURE: 600°F (316°C)

VEGAN: Yes

NON-GMO: Yes

GLUTEN FREE: Yes

GLUTMATE FREE: Yes

LACTOSE FREE: Yes

BSE FREE: Yes

FREE FROM: Irradiation, PAH, BPa, Dioxin, melamine, ethylene oxide, zearalenone, and organic solvents.

PESTICIDE RESIDUES: No detected levels of Organophosphate and Organochlorinated residuals.

SPECIFIC GRAVITY: 0.698 – 0.921 (H2O=1)
COMMON USES:
CULINARY:

frying,

spreads,

margarines,

cookies,

cakes,

frostings,

pie crusts,

etc.

COSMETIC:

allows product to remain solid at room temperature,

tasteless for lip balm/stick recipes,

softening,

texturizing,

foaming,

moisturizing,

skin hydration and conditioning,

increase viscosity.

SOAP MAKING:

a nice hard bar when used in combination with other oils such as coconut and olive oil,

a/k/a "vegetable tallow" for its trait of adding firmness to bar soaps,

saponifies easily,

pulls other oils into saponification quicker,

less water soluble and, therefore, resists melting,

provides a pale white-yellow color to your finished soap,

may speed up the soapmaking process,

palm oil base mixture is more reactive, therefore, you must add the essential oils and the nutrients swiftly or the soap will begin to set prematurely.
STORAGE: Store in original container to protect the oil from air/light/moisture, to maintain freshness, to maintain maximum shelf life, and for safe shipping.
If you order this meltable product between May 01 - October 31, please be aware that your product may experience changes in consistency or slight leakage. If this is a problem, please do not order between May 01 - October 31.