Soap Drying Dolly Tray - With wheels - holds 100 bars! - SALE ITEM
---
Product Details
SKU:

RED-DRYING-TRAY-DOLLY
UPC:

812841028163
Uses:

Stackable Drying Trays for Soaps
Harmonized Code: 3301250020 Length (inches): 16.25 Width (inches): 30.5 Height (inches): 9 Gross Weight (lb.): 13 Net Weight (lb.): 12 Ayurvedic Blog: http://ayurvedicoils.com/ Essential Oil Blog: http://essentialoil.net/ Greener Life Products: https://greenerlifeclub.com/product-directory/
Soap Drying Tray Dolly - Stackable
Perfect for the bottom tier in your stacking Soap Drying Trays, this dolly ships to you completely assembled with four swiveling casters. Now you can move your fully loaded trays around with a minimum of effort. Extra trays, as always, stack and lock into place, giving you the ultimate space saving tool for drying up to 100 bars per tray.
Also great as storage for your molds and other soaping supplies when not drying soap, just wheel the whole stack to your workspace and you are ready to soap!
Soap Drying Trays and the Soap Drying Tray Dolly are made in the USA.
NOTE:
You can order a 2 pack of Trays and save on shipping - CLICK HERE
Our Soap Drying Trays are the Ultimate, when it comes to shaving loads off of your curing time.
Main Benefits:
Fully Stackable Trays. There is no need for expensive, space consuming racks.
Made of a co-polymer polypropylene structural foam, extremely tough.
Broad temperature tolerance.
Exceptional dimensional stability.
Heavy duty, long life construction.
Exclusive slot vent design, can cut drying time up to 25% or more!
Ergonomically designed for easy handling and reach capability.
In addition to less drying time, there is saving all that labor in racking your bars and time in turning your bars to get an even cure.
Stackable Soap Drying Trays Description:
Exclusive slot vent design, can cut drying time up to 25% or more!
No need to turn your bars, to keep them from drying unevenly and curing unevenly. This can be very important with decorated bars that cannot be turned.
Durable and Tough enough to withstand constant and rough handling.
Heavy duty, long life construction.
Easy to clean, no sticking, with excellent release characteristics.
Space Saving and can be stacked 10 trays high.
Made of a co-polymer polypropylene structural foam.
Broad temperature tolerance. -40°F (-40°C) to 197°F (97°C).
Ergonomically designed for easy handling and reach capability.
Tips on usage:
The Best Way to Dry Your Bars:
We have found that the quickest way to stack and dry your bars is to stand them on the long edge. See diagram below.
Space them with about an 1/8" (3mm) between the bars and about 1/4" (6mm) between the rows. Take them off your Bar Cutting Table just the way they were cut, then just separate them out, as you place them on the tray.
| | |
| --- | --- |
| | The average 3.5 to 4 oz. (100g to 120g) bar size can stack about 100 to a tray (up to about 25 lbs. (11.4 kg). |

| | |
| --- | --- |
| | If the bars are under 3/4" (19mm), you may need to place a row on top of the bars, straddling the rows. See diagram below. This method works very well for small sample bars, even down to 3/8" (9mm) or less. This locks them together and allows you to move the tray around. It's quick and easy. |

For limited space considerations, stack trays as high as you want, for ease of use and working heights stack low. You are not restricted by rack limitations.
Need even more space and mobility? Stack the trays on a pallet and move easily with a pallet jack or fork lift.
Speed drying by placing fans around trays. The slotted design and open sides allow maximum air flow around product.
Stackable Soap Drying Tray Specifications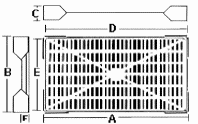 A - Overall Length - 30.5" - - - 775 mm
B - Overall Width - 16.25" - - - 413 mm
C - Overall Height - 4.375" - - - 111 mm
D - Inside Length - 29.5" - - - 749 mm
E - Inside Width - 15.125" - - - 384 mm
F - Side wall Height - 2.875" - - - 73 mm
Max. Drying Height - 3.50" - - - 89 mm
Weight: 72 ounces (2016 grams)
Color: Green

Greener Life Diamond Details
---
Carbon Footprint:Pending Animal Friendly:Pending Bio Healthy:Pending Fair Trade:Pending
RED (Revolutionary Essential Depot) Soap Making Products on Special - Click Here
Join the "Greener Life Club"
. Secure an additional 20% discount on all Essential Depot products and promote "Greener Life Products"
Essential Depot backs up its quality claims. We believe we are the only company selling Essential Oils that does Gas Chromatograph (GC) and Mass Spectrometry (MS) testing on every batch received and publishes the

full GC report

with

extensive research

on each Essential Oil for Greener Life Club Members.
CLICK HERE TO SEE Video Footage of Dr. Kevin Dunn, Professor of Chemistry at Hampden-Sydney College, discussing the GC testing of Essential Oils for authenticity

.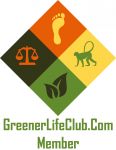 Greener Life Club Members can use the above Logo on their product labels, web site or marketing materials; see => http://www.essentialdepot.com/product/GLC-MEMBERSHIP-LOGO.html
Essential Depot promotes their products for them at => http://greenerlifeclub.com/product-directory/



Watch the video below to see "Greener Life Club Members" at the Essential Depot Wine Soap Bar attending one of our retreats discovering the "Secrets of Soap Making".