Greener Life Club Membership Logo - Permission to Use - Promote your product on the Greener Life Product Directory (details below)
---
Product Details
SKU:

GLC-MEMBERSHIP-LOGO
Greener Life Club
Membership Logo - Permission to use.
The
Greener Life Club Member Logo (Mark)
may be used on web sites, product packaging or any other promotional materials providing the Person or Entity using the Logo it meets the following criteria:
Is dedicated to producing products and services that promote a Greener Life.
Be striving to provide shoppers reliable information about the health, social, animal welfare and environmental attrubutes of a product at the point of purchase.
Implementing good manufacturing and/or re-packaging practices in the production and/or packaging of the products they produce.
Paid a one time $1 fee to use the Greener Life Club Logo.
Be an active member of the the Greener Life Club with any membership dues up to date.
Click on the Greener Life Club Member logo above to see a high resolution version of the logo you can use on your labels. Right click on and download after you pay the $1 fee. The logo must be used in its entirety, as presented with no modification.
If you need a higher resolution version of logo or if you have any questions please email greenerlifeclub@essentialdepot.com.
If you utilize the Greener Life Club Membership Logo be sure to post your products to the
Greener Life Club Member Product Directory
.
RED (Revolutionary Essential Depot) Soap Making Products on Special - Click Here
Join the "Greener Life Club"
. Secure an additional 20% discount on all Essential Depot products and promote "Greener Life Products"
Essential Depot backs up its quality claims as the only company selling Essential Oils that does Gas Chromatograph (GC) and Mass Spectrometry (MS) testing on every batch received and publishes the

full GC report

with

extensive research

on each Essential Oil for Greener Life Club Members.

GreenerLifeClub.com shares video footage of Dr. Kevin Dunn, Professor of Chemistry at Hampden-Sydney College, discussing the GC testing of Essential Oils for authenticity

.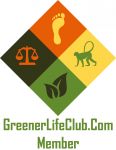 Greener Life Club Members can use the above Logo on their product labels, web site or marketing materials; see => http://www.essentialdepot.com/product/GLC-MEMBERSHIP-LOGO.html

Watch the video below to see "Greener Life Club Members" at the Essential Depot Wine Soap Bar attending one of our retreats discovering the "Secrets of Soap Making".