Castor Oil - Food Quart - 5 Quarts (32 oz. net wt per container) - FREE US SHIPPING
---
Product Details
SKU:

CASTOR-5 QUARTS
UPC:

892647002246
Country of Origin: India SAP value (KOH): 0.179 SAP value (NaOH): 0.127 Harmonized Code: 1515300000 SDS/MSDS Link: http://essentialdepot.com/msds/ED_Castor Oil _SDS.pdf
Csator Oil - Food Quart - 5 Quarts (32 oz net wt per container)
Shipped in safety sealed HDPE container with resealable cap.

Supplied in High Quality HDPE Quart Safety Sealed Container.

Add in small quantities to increases the soap lather and it adds extra moisturizing qualities. Too much Castor can make your soap soft and sticky.

Castor Oil ricinus communis Latin

Derived from the castor bean and obtained by cold pressure, is rich in fatty acids and very moisturizing and lubricating to the skin in general. It acts as a humectant, attracting moisture to the skin.

Castor oil packs applied with warm flannel are believed effective for pain relief and to draw out cysts, boils and warts.

Ayurvedic medicine uses castor oil for lumbago, sciatica and rheumatism. In the Canary Islands the oil is used to prevent sore nipples in nursing mothers and is also rubbed onto their scalps to prevent post natal hair loss. In soapmaking, although castor oil would appear to require less sodium hydroxide, it sometimes requires more due to its high ricinoleic acid content. It is also a well-known superfatting agent and well suited for shampoo bars and skin-care products. Without other oils, it produces a transparent soft soap. In combination with over vegetable oils, however, it makes a wonderfully emollient, hard bar of soap.

RED (Revolutionary Essential Depot) Soap Making Products on Special - Click Here
Join the "Greener Life Club"
. Secure an additional 20% discount on all Essential Depot products and promote "Greener Life Products"
Essential Depot backs up its quality claims. We believe we are the only company selling Essential Oils that does Gas Chromatograph (GC) and Mass Spectrometry (MS) testing on every batch received and publishes the

full GC report

with

extensive research

on each Essential Oil for Greener Life Club Members.
CLICK HERE TO SEE Video Footage of Dr. Kevin Dunn, Professor of Chemistry at Hampden-Sydney College, discussing the GC testing of Essential Oils for authenticity

.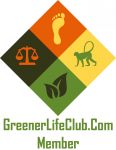 Greener Life Club Members can use the above Logo on their product labels, web site or marketing materials; see => https://www.essentialdepot.com/product/GLC-MEMBERSHIP-LOGO.html
Essential Depot promotes their products for them at => https://greenerlifeclub.com/product-directory/