Peppermint Essential Oil - 4 oz.
---
Product Details
SKU:

EOIL-PEPPERMINT-CONE-4OZ
UPC:

812841021614
Uses:

Therapeutic Grade for use in aromatherapy, soap and cosmetic making. Not for internal use.
Shipping Restrictions: AIR SHIPMENT PROHIBITED
AIR SHIPMENT PROHIBITED -> Can only be shipped to USA 48 Contiguous States
ORM-D -> Can only be shipped to USA 48 Contiguous States
ORM-D FREE SHIP -> Can only be shipped to USA States and USA Territories
Botanical Name: Mentha Arvensis Country of Origin: India Volume: 4 fl oz Extraction Method: Steam Distillation Plant Part: herb CAS #: 68917-18-0 Flash Point (°C): 67 Harmonized Code: 3301250010 SDS/MSDS Link: http://essentialdepot.com/msds/Essential-Oils/SDSPeppermint.pdf C.O.A. / G.C. Link: https://essentialdepot.com/gc/EdPeppermint.jpg Ayurvedic Blog: http://ayurvedicoils.com/ayurvedic-essential-oils_peppermint-essential-oil_892.html Essential Oil Blog: http://essentialoil.net/ Greener Life Products: https://greenerlifeclub.com/product-directory/ Kosher: Yes
Peppermint Supreme Essential Oil - 4oz
Aromatic Summary / Note / Strength of Aroma: A top note with a strong aroma, Peppermint has a sharp, penetrating scent based on its high menthol content. The minty sweetness of the vapor makes it one of the most popular Essential Oils.
Blends With: Basil, Bergamot, Cajeput, Cedarwood, Eucalyptus, Lemon, Lime, Mandarin, Marjoram, Niaouli, Pine, Rosemary, Spearmint and Thyme.
Mentha piperita, also known as 'candy mint', was once thought to be a species, but has been found to be a perennial hybrid that only proliferates by spreading its rhizomes underground. A very hearty fast-growing herb, it can grow anywhere. It has reddish veins and lightly fuzzy leaves, and its interesting chromosome count can vary between 66 and 120 chromosomes. Peppermint's name has its roots in Greek mythology. Hades, god of the dead, pursued the beautiful nymph, Minthe. Hades' wife, Persephone, became jealous and turned Minthe into a small and insignificant plant on which to be trampled. Pluto could not undo the transformation, but ensured that Minthe would always be loved for her fragrant aroma. Peppermint is used as a fragrancing agent in soaps, candles and toiletries.
Note: Because of the very high menthol content of this oil, it may crystalize. If so, we would recommend placing the bottle in a very hot water bath, and changing the water frequently until it is back to its liquid state, then gently agitate before use.
Cautions: Dilute very well before use; for external use only. May cause skin irritation in some individuals; a skin test is recommended prior to use. Contact with eyes should be avoided.

Greener Life Diamond Details
---
Carbon Footprint:Pending Animal Friendly:Pending Bio Healthy:Pending Fair Trade:Pending
RED (Revolutionary Essential Depot) Soap Making Products on Special - Click Here
Join the "Greener Life Club"
. Secure an additional 20% discount on all Essential Depot products and promote "Greener Life Products"
Essential Depot backs up its quality claims. We believe we are the only company selling Essential Oils that does Gas Chromatograph (GC) and Mass Spectrometry (MS) testing on every batch received and publishes the

full GC report

with

extensive research

on each Essential Oil for Greener Life Club Members.
CLICK HERE TO SEE Video Footage of Dr. Kevin Dunn, Professor of Chemistry at Hampden-Sydney College, discussing the GC testing of Essential Oils for authenticity

.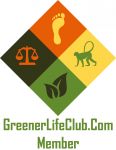 Greener Life Club Members can use the above Logo on their product labels, web site or marketing materials; see => http://www.essentialdepot.com/product/GLC-MEMBERSHIP-LOGO.html
Essential Depot promotes their products for them at => http://greenerlifeclub.com/product-directory/



Watch the video below to see "Greener Life Club Members" at the Essential Depot Wine Soap Bar attending one of our retreats discovering the "Secrets of Soap Making".