Zinc Oxide Powder - 20 oz - Non Nano ASTM D-4295 - safety sealed HDPE container with resealable lid
---
Product Details
SKU:

ZNO-20OZ-POT
UPC:

812841024097
Botanical Name: ZnO Country of Origin: USA Volume: 20 oz net wt Extraction Method: French Process Zinc Oxide as defined by ASTM D-4295 Color: White CAS #: 1314-13-2 Harmonized Code: 2870010 Length (inches): 3.75 Width (inches): 3.75 Height (inches): 7 Gross Weight (lb.): 1.5 Net Weight (lb.): 1.25 Data/Spec Sheet Link: http://www.essentialdepot.com/MSDS/zincoxide.pdf Skin Safe: Yes
Zinc Oxide Powder - 20 oz - shipped in safety sealed HDPE container with resealable lid.
French Process Zinc Oxide as defined by ASTM D-4295
NON-Nano sized particles
Average particle size: nano + 20%, no particle is less than Nano size
Never contians Nano particles (defined as particles less than 100nm)
Actual particle size ranges from 108nm to 132nm with an average particle size of 120nm
Particle size allows the Zinc Oxide to appear to be transparent on the skin
Uncoated particles
Provides the lowest whitening effects, appearing to be transparent upon application, while still being safe for the skin
Not so small that it can be absorbed into the bloodstream via the skin as happens with particles less than Nano-sized
Used as a colorant in cosmetics, soap making, lotions, creams, etc.
Also used as a filler in cosmetics, soap making, lotions, creams, sunscreens, lip balms, and other coatings to block UV rays
Do not settle for the usual "micro" sized Zinc Oxide powder from another supplier, "micro" does not mean Nano
RED (Revolutionary Essential Depot) Soap Making Products on Special - Click Here
Join the "Greener Life Club"
. Secure an additional 20% discount on all Essential Depot products and promote "Greener Life Products"
Essential Depot backs up its quality claims. We believe we are the only company selling Essential Oils that does Gas Chromatograph (GC) and Mass Spectrometry (MS) testing on every batch received and publishes the

full GC report

with

extensive research

on each Essential Oil for Greener Life Club Members.
CLICK HERE TO SEE Video Footage of Dr. Kevin Dunn, Professor of Chemistry at Hampden-Sydney College, discussing the GC testing of Essential Oils for authenticity

.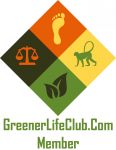 Greener Life Club Members can use the above Logo on their product labels, web site or marketing materials; see => https://www.essentialdepot.com/product/GLC-MEMBERSHIP-LOGO.html
Essential Depot promotes their products for them at => https://greenerlifeclub.com/product-directory/