Cocoa Butter Star - Organic - Unrefined - 3.5 oz net wt (99 g)
---
Product Details
SKU:

COCOA-BUTTER-99GSTAR
UPC:

892647002512
Uses:

Soapmaking, bath & skin care products. Amazing Greener Life Products - CLICK HERE
Country of Origin: Ghana, Africa Volume: 3.5 oz Extraction Method: Roasted and Cold Pressed SAP value (KOH): 0.192 SAP value (NaOH): 0.136 Harmonized Code: 18040000 Length (inches): 4 Width (inches): 4 Height (inches): 1.25 Gross Weight (lb.): 0.25 Net Weight (lb.): 0.22 SDS/MSDS Link: https://essentialdepot.com/msds/Cocoa_SDS.pdf Skin Safe: Yes
COCOA BUTTER - UNREFINED - ORGANIC - 3.5 oz net wt (99 g)
Cocoa Butter is very firm and hard when solid rendering it hard to measure and use in a recipe. Merely warm the product (preferrably in a bain marie - a hot water bath - or in the microwave or any other manner you desire). BUT, when you heat it, do not cook it or over-heat it, merely melt. If you cook it or over-heat it then you will diminish the beneficial qualities of the Cocoa Butter. This unique R.E.D. star-shape provides points that are easy to cut/chip off as well as acting as a handle for stability in safe holding.
Unrefined
No Additives
No Solvents
Not Deodorized
All Natural
Always Fresh
Roasted
Cold Pressed
Chocolate aroma
Organic
May be filtered or centrifuged to remove plant bits
Cocoa Butter is the fat which is obtained by pressing of the cocoa nib or cocoa mass obtained from the cocoa beans. Used in balms, lotions, creams, and soaps because of the softening and skin-healing properties. Most lip balms and massage butters require cocoa butter for firmness. The perfect oil for massaging daily into fast-growing pregnant bellies to prevent stretch marks from developing.
STAR SPECIFICATIONS:
HEIGHT: 0.88" (22 mm)
DIAMETER: 3.25" (59.69 mm)
VOLUME: 3.5 oz net weight minimum (99 ml)
RED (Revolutionary Essential Depot) Soap Making Products on Special - Click Here
Join the "Greener Life Club"
. Secure an additional 20% discount on all Essential Depot products and promote "Greener Life Products"
Essential Depot backs up its quality claims. We believe we are the only company selling Essential Oils that does Gas Chromatograph (GC) and Mass Spectrometry (MS) testing on every batch received and publishes the

full GC report

with

extensive research

on each Essential Oil for Greener Life Club Members.
CLICK HERE TO SEE Video Footage of Dr. Kevin Dunn, Professor of Chemistry at Hampden-Sydney College, discussing the GC testing of Essential Oils for authenticity

.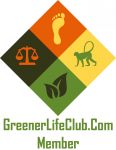 Greener Life Club Members can use the above Logo on their product labels, web site or marketing materials; see => https://www.essentialdepot.com/product/GLC-MEMBERSHIP-LOGO.html
Essential Depot promotes their products for them at => https://greenerlifeclub.com/product-directory/