165 Balm Tubes - 165 Balm Tubes & Caps - 165 Seal Sleeves - HDPE - BPA Free
---
Product Details
SKU:

BALMTUBE-165PK
UPC:

892647002475
Country of Origin: USA Length (inches): 11 Width (inches): 7 Height (inches): 3.75 Gross Weight (lb.): 2.5 Net Weight (lb.): 2.03
165 Balm Tubes - 165 Balm Tubes & Caps - 165 Seal Sleeves - HDPE - BPA Free
FOR USE WITH:
50 Balm Tube Tray (BALM-TRAY-KIT-50)
90 Balm Tube Tray (BALM-TRAY-KIT-90)
165 Balm Tube Tray (BALM-TRAY-KIT-165)
MATERIAL: HDPE
TUBE MEASUREMENTS:
HEIGHT (with cap): 2.625" (66.675 mm)
HEIGHT (without cap): 2.375" (60.325 mm)
DIAMETER: 0.625" (15.875 mm)
CONTENTS VOLUME: .15 oz (4.44 ml)
MAXIMUM FILL TEMPERATURE: 174F
INSTRUCTIONS:
Uncap tubes.
Prior to insertion of the tubes into the tray, please assure that the inner plunger of each balm tube is fully down to prevent any leakage during filling. You do this by merely twisting knob on bottom until it is tight.
Fully and firmly insert tubes. Merely rotate the tube as you insert and push in until it clicks to prevent leakage, it is a tight fit so you may need to twist and push firmly.
Assure that the top of each tube is flush with the tray.
You should hear a slight sound when tube slides into place.
Pour your liquid mixture into the tray/tubes.
Use the scraper to spread evenly over the tubes.
Once solidified and cooled, then again use the scraper to scrape the excess off the top.
Remove the filled tubes.
Cap each tube.
Apply your label.
Apply safety ring and seal with heat gun.
INCLUDES:
165 balm tubes, natural color (not clear but contents visible)
165 balm tube caps, natural color (not clear but contents visible)
165 plastic seal sleeves (additional available for purchase)
RED (Revolutionary Essential Depot) Soap Making Products on Special - Click Here
Join the "Greener Life Club"
. Secure an additional 20% discount on all Essential Depot products and promote "Greener Life Products"
Essential Depot backs up its quality claims. We believe we are the only company selling Essential Oils that does Gas Chromatograph (GC) and Mass Spectrometry (MS) testing on every batch received and publishes the

full GC report

with

extensive research

on each Essential Oil for Greener Life Club Members.
CLICK HERE TO SEE Video Footage of Dr. Kevin Dunn, Professor of Chemistry at Hampden-Sydney College, discussing the GC testing of Essential Oils for authenticity

.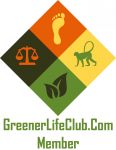 Greener Life Club Members can use the above Logo on their product labels, web site or marketing materials; see => https://www.essentialdepot.com/product/GLC-MEMBERSHIP-LOGO.html
Essential Depot promotes their products for them at => https://greenerlifeclub.com/product-directory/