Citronella Essential Oil - 4 oz.
---
Product Details
SKU:

EOIL-CITRONELLA-CONE-4OZ
UPC:

812841021935
Uses:

Therapeutic Grade for use in aromatherapy, soap and cosmetic making. Not for internal use.
Shipping Restrictions: AIR SHIPMENT PROHIBITED
AIR SHIPMENT PROHIBITED -> Can only be shipped to USA 48 Contiguous States
ORM-D -> Can only be shipped to USA 48 Contiguous States
ORM-D FREE SHIP -> Can only be shipped to USA States and USA Territories
Botanical Name: Andropogon Nardus Country of Origin: Indonesia Extraction Method: Steam Distillation Plant Part: Grass Leaves Color: Pale yellow to yellow liquid CAS #: 8000-29-1 Flash Point (°C): 80 Harmonized Code: 3301295111 Gross Weight (lb.): 0.5 Net Weight (lb.): 0.25 MSDS Link: http://essentialdepot.com/msds/Essential-Oils/SDS_Citronella.pdf C.O.A. / G.C. Link: https://essentialdepot.com/gc/EdCitronellaJava.jpg Blog/Forum Link: http://ayurvedicoils.com/essential-oils-info-buy-purchase_citronella-oil_1498.html Blog/Forum Link 2: http://essential-oil.com Blog/Forum Link 3: http://fyi101.com Wholesale Link: essential-oils-bulk/citronella-oil-bulk.html
Citronella Essential Oil - 4 oz.
A top note of medium aroma, Citronella has a well-rounded lemony scent, though it is much softer and has subtle wood tones.
Blends well with: Bergamot, Orange Sweet, Cedarwood, Geranium, Lemon, Lavender and Pine Scotch.
Citronella Oil is extracted from a resilient grass native to Sri Lanka and Java. It is a very aromatic perennial that grows approximately 1 meter (3 feet) in height. It is often used in combination with Cedarwood to produce pleasant-smelling patio candles and torches.
Storage: It is recommended that oils packaged in metal containers (for safe shipping), be transferred into dark glass containers to maintain freshness and attain maximum shelf life.

Greener Life Diamond Details
---
Carbon Footprint:Pending Animal Friendly:Pending Bio Healthy:Pending Fair Trade:Pending
RED (Revolutionary Essential Depot) Soap Making Products on Special - Click Here
Join the "Greener Life Club"
. Secure additional 10% to 50% discounts and promote "Greener Life Products"
Essential Depot backs up its quality claims as the only company selling Essential Oils that does Gas Chromatograph (GC) and Mass Spectrometry (MS) testing on every batch received and publishes the

full GC report

with

extensive research

on each Essential Oil for Greener Life Club Members.

GreenerLifeClub.com shares video footage of Dr. Kevin Dunn, Professor of Chemistry at Hampden-Sydney College, discussing the GC testing of Essential Oils for authenticity

.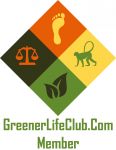 Greener Life Club Members can use the above Logo on their product labels, web site or marketing materials; see => http://www.essentialdepot.com/product/GLC-MEMBERSHIP-LOGO.html

Watch the video below to see "Greener Life Club Members" at the Essential Depot Wine Soap Bar attending one of our retreats discovering the "Secrets of Soap Making". Our Wine Soap Bar (Retail Showroom and Training Center) is open 2pm to 5pm Monday to Friday for order pickups. Click Here for Directions.