Frankincense Fragrance Oil - 4 oz.
---
Product Details
SKU:

FOIL-FRANKINCENSE-4OZ
UPC:

812841022529
Uses:

Intended for soap and candle making. This is not a flavor oil. Do not ingest.
Shipping Restrictions: AIR SHIPMENT PROHIBITED
AIR SHIPMENT PROHIBITED -> Can only be shipped to USA 48 Contiguous States
ORM-D -> Can only be shipped to USA 48 Contiguous States
ORM-D FREE SHIP -> Can only be shipped to USA States and USA Territories
Country of Origin: USA Volume: 4 fl oz Flash Point (°C): 47 Harmonized Code: 3302901050 SDS/MSDS Link: http://www.essentialdepot.com/msds/Fragrance-Oil/Fragrance-Oil-MSDS.pdf Ayurvedic Blog: http://ayurvedicoils.com/ Essential Oil Blog: http://essentialoil.net/ Greener Life Products: https://greenerlifeclub.com/product-directory/
Frankincense Fragrance Oil 4 oz. - Finest Quality. Supplied in 4 oz. amber glass bottle with Black Phenolic Cone Lined Safety Sealed Cap. Aromatic Summary / Note / Strength of Aroma: A base note with a medium aroma, Boswellia serrate has a warm and spicy, woody odour that is haunting, but milder than Frankincense from Somalia. Blends With: Basil, Bergamot, Cardamom, Cedarwood, Chamomile, Cinnamon Bark, Clary Sage, Coriander, Geranium, Ginger, Myrrh and Vanilla. Product Abstract: Frankincense originates from a small scraggly but hardy tree indigenous to the Middle East, which is small with abundant pinnacle leaves and white or pale pink flowers. The resin begins as a fragrant sticky milky-white liquid that flows from the trunk of the tree when cut. The dried tears are collected, and the resin is then distilled, producing the precious oil. The resin is known as olibanum, derived from the Arabic al-lubān or 'that which results from milking', referring to the milky sap. It is used as incense, and has been traded for 5,000 years. Widely used in ancient Egypt, it was one of the ingredients used in the holy oil described in the Talmud. Frankincense was brought back to Europe by Frankish Crusaders (Frank-incense), and the oil is still highly prized today in the perfumery industry, and widely used in the manufacturing of skin-care products. Cautions: Dilute before use; for external use only. May cause skin irritation in some individuals; a skin test is recommended prior to use. Contact with eyes should be avoided. Storage: It is recommended that oils packaged in metal containers (for safe shipping), be transferred into dark glass containers to maintain freshness and attain maximum shelf life.
RED (Revolutionary Essential Depot) Soap Making Products on Special - Click Here
Join the "Greener Life Club"
. Secure an additional 20% discount on all Essential Depot products and promote "Greener Life Products"
Essential Depot backs up its quality claims. We believe we are the only company selling Essential Oils that does Gas Chromatograph (GC) and Mass Spectrometry (MS) testing on every batch received and publishes the

full GC report

with

extensive research

on each Essential Oil for Greener Life Club Members.
CLICK HERE TO SEE Video Footage of Dr. Kevin Dunn, Professor of Chemistry at Hampden-Sydney College, discussing the GC testing of Essential Oils for authenticity

.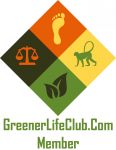 Greener Life Club Members can use the above Logo on their product labels, web site or marketing materials; see => https://www.essentialdepot.com/product/GLC-MEMBERSHIP-LOGO.html
Essential Depot promotes their products for them at => https://greenerlifeclub.com/product-directory/