Coconut Oil - Food Safe - 2 Gallons - 2 x 1 Gallon Containers - FREE US SHIPPING - SALE ITEM
---
Product Details
SKU:

COCONUT-2-GAL
UPC:

892647002833
Uses:

Food Safe, Soap & Cosmetic Production
Botanical Name: Cocos Nucifera Country of Origin: Philippines, Malaysia, and/or Indonesia Extraction Method: separate the copra from the hull of the coconut, solvent extracted, then Refined, Bleached, and Deodorized Plant Part: from the copra, the dried meat of coconut Color: White to Yellowish, Soft Solid to Liquid CAS #: 8001-31-8 SAP value (KOH): 0.256 SAP value (NaOH): 0.181 Flash Point (°C): >500F (260C) Harmonized Code: 1513110000 Length (inches): 12 Width (inches): 12 Height (inches): 12 Gross Weight (lb.): 18 Net Weight (lb.): 17.5 Ayurvedic Blog: http://ayurvedicoils.com/ Essential Oil Blog: http://essentialoil.net/ Greener Life Products: https://greenerlifeclub.com/product-directory/ Skin Safe: Yes
COCONUT OIL - 76 F - 2 Gallons - 2 @ 1 Gallon Jugs - 7lbs 10oz per container - Food Safe - Shipped in 2 @ 1 Gallon HDPE Gallon Jug Safety Sealed Container with Resealable Cap.
ADDITIONAL PRODUCT SPECIFICATIONS:
ODOR/AROMA: bland to odorless

TASTE: tasteless

APPEARANCE: soft solid <75F (24C); hard brittle crystalline solid <59F (15C)

CONSISTENCY: slightly thick texture when liquid

INITIAL BOILING POINT and RANGE: 842F (450C)

AUTO-INGNITION TEMPERATURE: >57F (300C)

VEGAN: Yes

GLUTEN FREE: Yes

GLUTMATE FREE: Yes

LACTOSE FREE: Yes

BSE FREE: Yes

FREE FROM: PAH, BPa, dioxon, melamine, ethylene oxide, zearalenone, and organic solvents.

PESTICIDE RESIDUES: No detected levels of Organophosphate and Organochlorinated residuals.

SPECIFIC GRAVITY: 0.90 - 0.92 (H2O=1)

SURFACE TENSION: 33.4 mN/m (68F/20C)
COMMON USES: Food Safe for culinary use such as frying, baked goods, confections, and ice cream coatings. Ideal in soap and skin care products. A percentage of coconut oil in cosmetics is moisturizing; too much of it can be drying. The saturated nature resists rancidity and makes a very hard soap, while at the same time producing a fluffy lather. Soapmakers usually combine with olive, palm, palm kernel or castor oils for an all-vegetable soap. Some soapmakers use between 20%-30%.
CAUTIONS: Prolonged skin contact may cause irritation in some individuals. A skin test is recommended prior to use, dilute prior to use. Contact with eyes should be avoided as it may cause temporary irritation.
STORAGE: Store in original container to protect the oil from air/light/moisture, to maintain freshness, to maintain maximum shelf life, and for safe shipping.
RED (Revolutionary Essential Depot) Soap Making Products on Special - Click Here
Join the "Greener Life Club"
. Secure an additional 20% discount on all Essential Depot products and promote "Greener Life Products"
Essential Depot backs up its quality claims. We believe we are the only company selling Essential Oils that does Gas Chromatograph (GC) and Mass Spectrometry (MS) testing on every batch received and publishes the

full GC report

with

extensive research

on each Essential Oil for Greener Life Club Members.
CLICK HERE TO SEE Video Footage of Dr. Kevin Dunn, Professor of Chemistry at Hampden-Sydney College, discussing the GC testing of Essential Oils for authenticity

.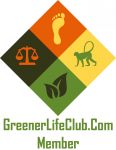 Greener Life Club Members can use the above Logo on their product labels, web site or marketing materials; see => https://www.essentialdepot.com/product/GLC-MEMBERSHIP-LOGO.html
Essential Depot promotes their products for them at => https://greenerlifeclub.com/product-directory/