BAKING SODA - SODIUM BICARBONATE - 50 lbs net wt in manufacturer bag - Minimum 99% Bicarbonate (NaHCO3)
---
Product Details
SKU:

BAKINGSODA-50LBS-MFTRBAG
UPC:

892647002925
Country of Origin: USA Color: White CAS #: 144-55-8 Harmonized Code: 283620 Length (inches): 13 Width (inches): 15 Height (inches): 7 Gross Weight (lb.): 52 Net Weight (lb.): 50 Skin Safe: Yes
SODIUM BICARBONATE - also known as BAKING SODA, VICHY SALT, SODIUM HYDROCARBONATE, ACID MONOSODIUM SALT, SODIUM ACID CARBONATE, and NaHCO3. Manufactured using sea salt, ammonia, and carbonic acid. Also found in nature, it is biodegradable and environment friendly. Commonly referred to as a "buffer" because if stabilises a solutions's pH level at around 8.1. This characteristic is why Sodium Bicarbonate is such a common ingredient in many applications to diminish acidity, prevent corrosion, and neutralise acidic substances (such as venom of insects such as mosquitoes). Water's temporary hardness determined by the quantity of calcium and magnesium ions present. Water hardness can be noticed easily by testing its capacity to rinse soap and cook vegetables. Lime deposits are avoided when Sodium Bicarbonate is dissolved in the water, the calcium ions do not separate into lime (calcium carbonate) thus reducing the use of soap and detergent. Neutralises and absorbs odors rather than masking an odor.
Shipped to you in the original Manufacturer's bag inside a poly bag to preserve freshness and quality and inside a custom corrugated box.
COUNTRY OF ORIGIN: U.S.A.
APPEARANCE: crystalline, powder
PHYSICAL STATE: solid
COLOR: white
TASTE: slight alkaline taste
MICRON SIZE: approximately 73% retained when passed through a 325 mesh (45 micron)
ODOR: none, odorless
pH: 8.4 (ca.8.4 g/L) (77F/25C) and 8.6 (ca.52 g/L), pKa 6.3 (therefore, a realatively weak acid)
BICARBONATE NaHCO3): Minimum 99% Bicarbonate (NaHCO3) but average of 99.87%
MELTING POINT: decomposes on heating beginning at >122F/50C
FLAMMABILITY: non-flammable
SOLUBILITY: only slightly soluble in Alcohol, in water:
63 g/L (32F/0C),
93 g/L (68F/20C)
165 g/L (140F/60C)
DENSITY: 2.21 kg/dm3 (Bulk is 0.5-1.3 kg/dm3)
MAXIMUM USE LEVEL: 200 mg/L
KOSHER: Yes
HALAL: Yes
SUITABLE FOR VEGETARIANS: Yes
FOOD PREPARATIONS: leavening agent, acidic/base odor control, slightly abrasive dissolving prior to surface damage, assists the elimination of impurities when washing fruit/vegetables, heightens vegetable colors, tenderizes meats, neutralises tomato acidity, cheese making (less rennet needed), buffering agent in energy drinks, helps maintain firmness of canned fruit/vegetables, corrects mineral deficiencies in the water used to ensure uniform taste in beverages.
GLUTEN FREE FOOD PREPARATIONS: leavening agent, acid/pH control.
COSMETIC APPLICATIONS: bath bombs, scrubs, pastes, foaming agent, effervescent powders/tablets, odor control, delicate yet slightly abrasive dissolving prior to surface damage, make a paste and apply to soften and eliminate calluses, dissolve in warm bath water to soften skin and helps to gently remove dead skin.
CLEANING: detergents, foaming agent, blasting agent, environmental protection, effervescent powders/tablets, odor control, delicate yet slightly abrasive dissolving prior to surface damage.
INDUSTRIAL APPLICATIONS: detergents, water treatment, foaming agent, tanning agent, blasting agent, environmental protection, flue gas purification, chemical industry, pulp/paper/paper products manufacture, effervescent powders/tablets, odor control, delicate yet slightly abrasive dissolving prior to surface damage.
SHELF LIFE and USE BY INFORMATION: Sodium Bicarbonate, like salt (sodium chloride), can lose some of its potency over a period of time, especially if exposed to air as it absorbs the moisture in the air decreasing potency. This product is stable for a significant period of time unless exposed to heat or air. When used in cosmetic, industrial, cleaning, and food applications, it is potent and stable for a considerable period of time, unless exposed to air and moisture in a laundry area.
RED (Revolutionary Essential Depot) Soap Making Products on Special - Click Here
Join the "Greener Life Club"
. Secure an additional 20% discount on all Essential Depot products and promote "Greener Life Products"
Essential Depot backs up its quality claims. We believe we are the only company selling Essential Oils that does Gas Chromatograph (GC) and Mass Spectrometry (MS) testing on every batch received and publishes the

full GC report

with

extensive research

on each Essential Oil for Greener Life Club Members.
CLICK HERE TO SEE Video Footage of Dr. Kevin Dunn, Professor of Chemistry at Hampden-Sydney College, discussing the GC testing of Essential Oils for authenticity

.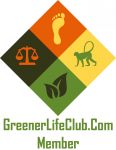 Greener Life Club Members can use the above Logo on their product labels, web site or marketing materials; see => https://www.essentialdepot.com/product/GLC-MEMBERSHIP-LOGO.html
Essential Depot promotes their products for them at => https://greenerlifeclub.com/product-directory/