2.2lbs. Vitamin C Ascorbic Acid
---
Product Details
SKU:

ASCORBIC-ACID-2LB
UPC:

812841024103
Harmonized Code: 29362700 Net Weight (lb.): 2.2 Ayurvedic Blog: http://ayurvedicoils.com/ Essential Oil Blog: http://essentialoil.net/ Greener Life Products: https://greenerlifeclub.com/product-directory/
Shipped in an HDPE safety sealed container with resealable cap.
SYNONYMS: Vitamin C, L-Ascorbate, or L-Ascorbic Acid
FORMULA: C6H8O6
MOLECULAR WEIGHT: 176.124120 g/mol
SOURCE: natural (like fruits and vegetables)
APPEARANCE: odorless, solid, granular (like table salt or sugar), white to extremely pale yellow (almost a light beige), a pleasant sharp acidic taste.
SOLUBILITY: in water
PROPERTIES: Anhydrous, strong reducing and antioxidant agent that functions in fighting bacterial infections, in detoxifying reactions, and in the formation of collagen in fibrous tissue, teeth, bones, connective tissue, skin, and capillaries. "Generally Regarded As Safe" (GRAS) by the FDA when used in accordance with good manufacturing practices.
USES: Vitamin C can not be produce or stored by humans and must be obtained through a diet.
FOOD PREPARATIONS: Used as a food preservative, pH adjustment, or souring agent inapplications that are not heated as this natural Vitamin C is temperature sensitive. In baking it provides: increased product volume, better cell structure, finer and tenderer crumb, extended product shelf life, increased mold-free shelf life.
COSMETIC and PHARMACEUTICAL APPLICATIONS: Used to adjust pH as well as an antioxidant to slow deterioration of the finished product caused by exposure to the air.
INDUSTRIAL APPLICATIONS: Photo production, water purification, fluorescence microscopy.
STORAGE: To maintain freshness and maximum shelf life store in container provided and protect from heat, air, moisture and light. Do not store in metal.
RED (Revolutionary Essential Depot) Soap Making Products on Special - Click Here
Join the "Greener Life Club"
. Secure an additional 20% discount on all Essential Depot products and promote "Greener Life Products"
Essential Depot backs up its quality claims. We believe we are the only company selling Essential Oils that does Gas Chromatograph (GC) and Mass Spectrometry (MS) testing on every batch received and publishes the

full GC report

with

extensive research

on each Essential Oil for Greener Life Club Members.
CLICK HERE TO SEE Video Footage of Dr. Kevin Dunn, Professor of Chemistry at Hampden-Sydney College, discussing the GC testing of Essential Oils for authenticity

.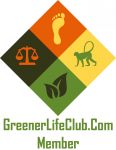 Greener Life Club Members can use the above Logo on their product labels, web site or marketing materials; see => https://www.essentialdepot.com/product/GLC-MEMBERSHIP-LOGO.html
Essential Depot promotes their products for them at => https://greenerlifeclub.com/product-directory/