Consumers are ready to buy from companies that value kindness and social responsibility.
SHOPPERS NEED TANGIBLE, RELIABLE INFORMATION ABOUT THE HEALTH, SOCIAL, AND ENVIRONMENTAL BENEFITS OF A PRODUCT AT THE POINT OF PURCHASE.
With the introduction of the
Greener Life Diamond

tm

Essential Depot aims to pioneer the tool that will make ethical consumption a habit in the soap & cosmetics marketplace.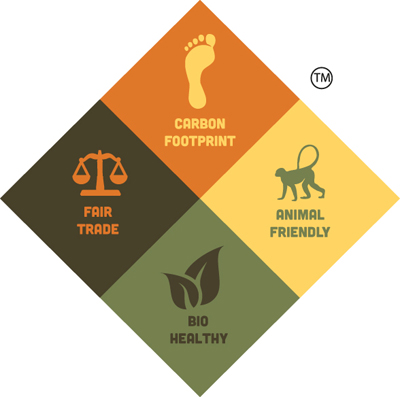 With so much to consider, how do we make the right choices?
Essential Depot

®

is closing the information gap
The Greener Life Diamond™ is a graduated certification system that shows whether a company is involved in processes toward sustainability. Ratings of 0 to 4 help consumers make responsible choices in purchasing.
0 - Cruelty-free and no impact on habitat.
1 - Cruelty-free. Minimal impact on habitat.
2 - Cruelty-free. Actively reducing habitat impact.
3 - Cruelty-free. Continued impact on habitat.
4 - No plan to address animal welfare impacts.
0 - Carbon Neutral.
1 - Climate Friendly. Minimal carbon emissions.
2 - Engaged in carbon reduction.
3 - Future commitment to address carbon emissions.
4 - No plan to address carbon emissions.
0 - Skin Safe and Organic and Non GMO.
1 - Skin Safe and Organic.
2 - Skin Safe.
3 - Possible Skin Issues.
4 - Skin Toxic.
0 - 100% fair trade and respect for indigenous land rights.
1 - 50% + fair trade and respect for indigenous land rights.
2 - Proactive with respect to fair trade and indigenous land rights.
3 - Investigating viability of implementing fair trade or indigenous land rights.
4 - No fair trade and/or indigenous land right activity.
Essential Depot provides new tools to allow Essential Depot`s customers to differentiate their products in the soap and cosmetics marketplace.
Click here to read the Greener Life Diamond white paper.
"Greener Life Diamond" and "Greener Life Certified" are Trademarks of Essential Depot Inc. All rights reserved. Essential Depot will be licensing their use to fyi101.com premium members starting Jan 2017, with a $1 licensing fee to 6 month+ members.