Fractionated Coconut Oil - MCT Oil - Food Grade - 5 Quarts (32 oz. net wt per container) - FREE US SHIPPING
---
Product Details
SKU:

FRCOCONUT-MCT-5QUARTS
UPC:

812841029245
Botanical Name: Caprylic/Capric Triglycerides 60/40 Country of Origin: Malaysia Volume: 32 oz net wt per container Extraction Method: Heat Processed Plant Part: Kernels Color: Clear with a very pale yellow hue CAS #: 73398-61-5 / 65381-09-1 Flash Point (°C): 250 Harmonized Code: 1513110000 SDS/MSDS Link: http://essentialdepot.com/msds/MCT_SDS.pdf C.O.A. / G.C. Link: http://essentialdepot.com/msds/MCT-COA.pdf Phthalate Free: Yes Paraben-Free: Yes Skin Safe: Yes Kosher: Yes
MCT Oil - Fractionated Coconut - Food Grade - 5 Quarts (32 oz net wt per container)
Shipped in safety sealed HDPE container with resealable cap.
Fractionated Coconut OilOil, also known as MCT Oil, is not your regular cold-pressed coconut oil that goes solid at room temperature, though it's ability as an emollient and moisturizer is the same. Fractionated oils have been heated as part of their processing, to separate certain chains of fatty acids into components. This refines, clarifies, and deodorizes the oil.
One of the components resulting from this type of processing of coconut oil is medium-chain triglycerides, known as MCT in the industry. This is what comprises Fractionated Coconut Oil. It stays liquid, is clear, and is highly stable for use in creams and lotions, and many other cosmetic preparations for skin and hair. Because it is chemically indifferent to other cosmetic ingredients, it acts as a viscosity regulator and assists in the dispersion of pigments and other additives. Further, it penetrates the skin readily, thus acting as a carrier for transdermal therapeutic ingredients. This ability to transport essential oils and actives makes it an oil of choice among medical practitioners and massage therapists.
A percentage of coconut oil in cosmetics is moisturizing; too much of it can be drying. Its saturated nature resists rancidity and makes a very hard soap, while at the same time producing a fluffy lather.
Soapmakers usually combine coconut oil with olive, palm, palm kernel or castor oils for an all-vegetable soap. Some soapmakers use between 20% and 30% of a soap batch as coconut oil.
RED (Revolutionary Essential Depot) Soap Making Products on Special - Click Here
Join the "Greener Life Club"
. Secure an additional 20% discount on all Essential Depot products and promote "Greener Life Products"
Essential Depot backs up its quality claims. We believe we are the only company selling Essential Oils that does Gas Chromatograph (GC) and Mass Spectrometry (MS) testing on every batch received and publishes the

full GC report

with

extensive research

on each Essential Oil for Greener Life Club Members.
CLICK HERE TO SEE Video Footage of Dr. Kevin Dunn, Professor of Chemistry at Hampden-Sydney College, discussing the GC testing of Essential Oils for authenticity

.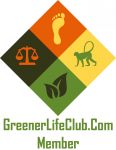 Greener Life Club Members can use the above Logo on their product labels, web site or marketing materials; see => https://www.essentialdepot.com/product/GLC-MEMBERSHIP-LOGO.html
Essential Depot promotes their products for them at => https://greenerlifeclub.com/product-directory/