Xanthan Gum 1lb Powder USP FCC Food Grade
---
Product Details
SKU:

XANTHAN-GUM-1LB-POWDER
UPC:

892647002505
Harmonized Code: 39139090 Net Weight (lb.): 1.2 Ayurvedic Blog: http://ayurvedicoils.com/ Essential Oil Blog: http://essentialoil.net/ Greener Life Products: https://greenerlifeclub.com/product-directory/ High Profit CBD Items: http://www.essentialdepot.com/category/MOONLIGHTING.html
Xanthan Gum 1lb Powder USP FCC Food Grade - Finest Quality (1 lb in Quality Heat Sealed Resealable Zip Lock Pouch) .
This is the finest certified E415 USP FCC Food Grade Xanthan Gum Powder available to purchase for FOOD and COSMETIC applications. It is a creamy-white colored,very fine powder. A little of this quality Xanthan Gum goes an incredibly long way.

Despite its strange name, Xanthan Gum is an all natural product just like any other fermented corn sugar polysaccharide product. This Xanthan Gum exhibits many very useful properties, for example: high viscosity at low concentrations, little change in viscosity at varying temperatures, and excellent stability over a wide pH range. It also provides good freeze-thaw stability and shows remarkable suspension characteristics.

You can use it as a thickener, stabilizer, emulsifier, suspending agent, or bodying agent in many food applications such as salad dressings, sauces, instant products, desserts, bakery, dairy products, and fruit juices as well as in the formation of various gluten free low-calorie foods. The many cosmetic and pharmaceutical applications of this Xanthan Gum include the use in tooth pastes, lotions, shampoos, and formulations for tablets. Industrial applications of Xanthan Gum include use in cleaners, paints, ceramic glazes, and inks. Cosmetic manufacturers add a very small amount of Xanthan Gum to cream-based products to keep the individual ingredients from separating.

Xanthan Gum is used as a baking aid in recipes which require gluten free flours. Gluten is needed to impart elasticity to the dough which would allow it to hold in the gases formed by fermentation which causes the rising effect. Xanthan Gum acts as a substitute for the missing gluten in gluten free recipes. Those who suffer from gluten allergies should look for Xanthan Gum as an ingredient on the label.

Xanthan gum is considered a polysaccharide in scientific circles because it is a long chain of three different forms of sugar. What is important to know is that all three of these natural sugars are present in corn sugar, a derivative of the more familiar corn syrup. The Xanthomonas Campestris Bacteria literally eat a supply of this corn sugar under controlled conditions, and the digestion process converts the individual sugars into a single substance with properties similar to cornstarch.
Xanthan Gum is used in dairy products and salad dressings as a thickening agent and stabilizer.
Xanthan Gum prevents ice crystals from forming in ice creams.
Xanthan Gum also provides a 'fat feel' in low or no-fat dairy products.
Greener Life Diamond Details
---
Carbon Footprint:0 Animal Friendly:0 Bio Healthy:2 Fair Trade:0
RED (Revolutionary Essential Depot) Soap Making Products on Special - Click Here
Join the "Greener Life Club"
. Secure an additional 20% discount on all Essential Depot products and promote "Greener Life Products"
Essential Depot backs up its quality claims. We believe we are the only company selling Essential Oils that does Gas Chromatograph (GC) and Mass Spectrometry (MS) testing on every batch received and publishes the

full GC report

with

extensive research

on each Essential Oil for Greener Life Club Members.
CLICK HERE TO SEE Video Footage of Dr. Kevin Dunn, Professor of Chemistry at Hampden-Sydney College, discussing the GC testing of Essential Oils for authenticity

.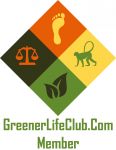 Greener Life Club Members can use the above Logo on their product labels, web site or marketing materials; see => http://www.essentialdepot.com/product/GLC-MEMBERSHIP-LOGO.html
Essential Depot promotes their products for them at => http://greenerlifeclub.com/product-directory/



Watch the video below to see "Greener Life Club Members" at the Essential Depot Wine Soap Bar attending one of our retreats discovering the "Secrets of Soap Making".