Drum - 480 lb. Propylene Glycol - USP (pharmaceutical grade) - KOSHER
---
Product Details
SKU:

DRUM-PG
UPC:

812841028316
Country of Origin: United States of America Gross Weight (lb.): 500 Net Weight (lb.): 480 C.O.A. / G.C. Link: http://www.essentialdepot.com/MSDS.html
Drum - 480 lb. Propylene Glycol - USP - KOSHER - Pure - USA Made
Finest Quality Propylene Glycol for as a moisturizer in medicines, cosmetics, food, toothpaste, shampoo, mouth wash, hair care. Kosher certified and suitable for food and cosmetic use.

Our Propylene Glycol and Vegetable Glycerin products are loved by Essential Depot's customers because they are the best and purest product you can buy. USP Grade (pharmaceutical grade).
If you do not have a facility where you can offload a pallet from a freight delivery truck, we recommend you purchase our PG/VG Glycube Product that can be shipped via UPS ground small package service. Please note UPS freight picks up at our PG/VG warehouse on on Tuesday and Friday only.
DRUMS NOW AVAILABLE FOR LOCAL PICKUP!
Essential Depot has purchased the old Coca-Cola distribution center in Sebring, FL, for manufacturing and distribution of our Vegetable Glycerin and Propylene Glycol products. You may pick up drums of VG or PG by appointment only at this facility, or arrange for your own freight company to pick up. Select Drum Pickup at our Warehouse in the shipping options at checkout.
Greener Life Diamond Details
---
Carbon Footprint:0 Animal Friendly:0 Bio Healthy:0 Fair Trade:0
RED (Revolutionary Essential Depot) Soap Making Products on Special - Click Here
Join the "Greener Life Club"
. Secure an additional 20% discount on all Essential Depot products and promote "Greener Life Products"
Essential Depot backs up its quality claims as the only company selling Essential Oils that does Gas Chromatograph (GC) and Mass Spectrometry (MS) testing on every batch received and publishes the

full GC report

with

extensive research

on each Essential Oil for Greener Life Club Members.

GreenerLifeClub.com shares video footage of Dr. Kevin Dunn, Professor of Chemistry at Hampden-Sydney College, discussing the GC testing of Essential Oils for authenticity

.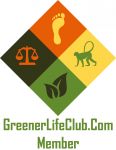 Greener Life Club Members can use the above Logo on their product labels, web site or marketing materials; see => http://www.essentialdepot.com/product/GLC-MEMBERSHIP-LOGO.html

Watch the video below to see "Greener Life Club Members" at the Essential Depot Wine Soap Bar attending one of our retreats discovering the "Secrets of Soap Making".